2002 TJ OME Lift
Rear Springs, Shocks & Track Bar
by Steve Leslie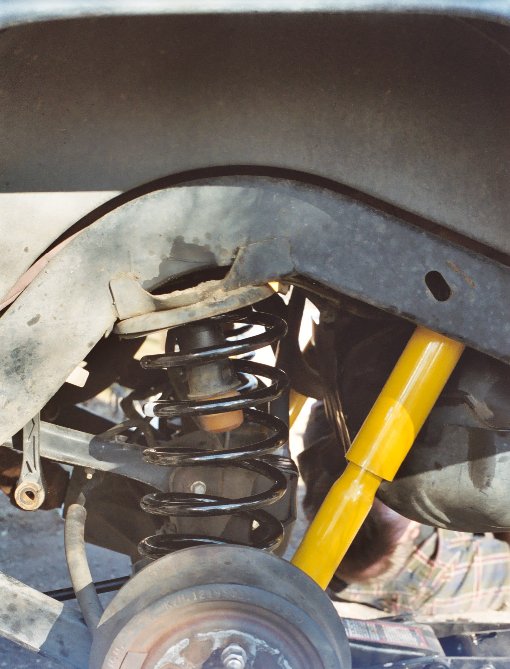 We started by supporting the axle with a floor jack. Then we disconnected the rear sway bar, followed by removing the shocks, which was a PITA as the upper bolts are just in a tight place. After that we dropped the trackbar and lowered the axle until we could remove the springs.
Again, prior to installing the springs we installed the bumpstop extensions. These were a lot easier than the fronts. We pulled the bump stops out of their housings, removed the bolts that hold the housings to the frame, installed the spacers using the longer bolts provided and pushed the bump stops back in.
Just like the front springs, one is slightly taller than the other. The difference here is that the taller spring goes on the passenger side. To install the springs, we just used the compressor again. Next we installed the shocks…again a PITA because of the upper bolts. (The image to the left is about two seconds before Dale bonked his head off the drum.
)

Then, we just bolted in the rear trackbar (again 4wd Specialty dialed both of them in when they aligned it) and re-connected the rear sway bar.